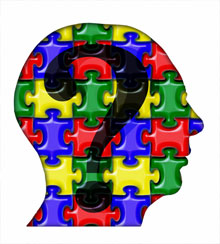 ALL SORTS OF THERAPISTS:
There are lots of terms used to describe the health professionals who help people with their emotional, psychological or mental health concerns. Job titles such as counsellor, psychotherapist, psychological therapist, psychoanalyst, psychologist, psychiatrist and many more are all used. The unfortunate fact is that in the UK anyone can call themselves any kind of therapist or 'ologist' they like. The exception is the psychiatrists because only they have legally protected titles. With all these names flying about it is not surprising that people often wonder who all these professionals are. What the differences are between them? Who are the genuine article and who are the phonies?
So, how can you tell all these 'ologists' apart? Do their professional titles matter? The reality is that all these different titles probably owe more to how any particular therapist was originally trained than they do to actually observable differences in professional practice. After all, research shows us that most experienced therapists are not particularly are overly concerned about professional titles nor do they limit themselves to any given therapeutic approach when responding to their clients' needs. Therefore, the real answer to the 'what's in a name' puzzle is simple – in practical terms there are no significant differences. Again the exception is the psychiatrists because as medical doctors they can also prescribe medication.
These days, the various sorts of practitioners who offer any of the psychological therapies are often collectively referred to as 'Talking Therapists'. This term is often also applied to workers in the 'parallel professions' such as social work, mental health nursing, probation officers, and so on. When people are using psychotherapeutic techniques, then whatever their backgrounds, they are talking therapists, (even if only temporarily). Of course in these more enlightened times, the psychological therapies increasingly include a lot more treatment methods than just "talking the talk". Today's talking therapists encourage people how to self-manage their own conditions by following treatment plans, engaging in practical self-treatment strategies, to get involved with all sorts of psychological interventions. These days the talking therapists don't just 'talk the talk'; they "walk the walk" as well.
In addition, people also rightly want to know if they have found genuinely competent and properly qualified counsellors and psychotherapists. The alarming truth is that there are awful lot of quacks out there. Further, there is no way of stopping any of these charlatans causing harm to people by offering them all sorts of weird and wonderful 'cures'. There seems to be no shortage of psychological snake oil. Therefore, you need to be careful in selecting somebody to trust. How can you make sure that your therapist is the 'real deal'?
Well, firstly look for people who are fully registered and accredited by one of the main professional bodies. These include the British Association for Counselling and Psychotherapy, The United Kingdom Council for Psychotherapy, the British Association for Behavioural and Cognitive Therapy, or the British Psychological Society? Choosing one of those therapists is much safer for you because they can be disciplined if their standards fall or if they treat their patients unfairly.
Secondly look at their qualifications. Do they have appropriate university level diplomas or degrees in counselling or psychotherapy? Quite simply, a part-time FE Certificate from a local evening college is just not good enough. Be careful here – there are tricksters about. Too many inadequately qualified practitioners give a false impression of themselves by listing all their 'letters' even the ones that are irrelevant. An excellent example of this sort of deception comes from the late Dr Marie Stopes the celebrated birth control pioneer. She was never a medical practitioner and her Doctorate was an academic award for research into fossilised plants.
Thirdly, use your common sense. Before making a formal appointment with someone why not have an exploratory chat first, possibly on the phone? Do they sound genuine? Are they willing to answer your questions? Are they prepared to tell you about themselves and about how they work? Are they insured? How experienced are they? Are they professionally supervised? Are they able to refer you on if necessary? Above all, does this person sound like someone you would be happy to talk to? Put simply – do they feel right? If they don't, then no matter how impressive, (and genuine), their qualifications move on and get somebody else. Go with your instincts – they won't let you down.
One last thing, If you ever need any help in deciding what to do about selecting the right person and/or the right type of therapy for you then you can always contact me – no charge for free advice – and no, I don't expect you to come and see me although of course you can if you really want to. I will simply help you choose what's best for you – that's what true professionals do – we put patients' needs first.